CHAMPAGNE DELIVERED RIGHT TO YOUR DOOR
CREATE A SPECIAL OCCASION
Four times a year, you receive a unique, curated box of joy based on an educational theme. Every allocation is a tour de Champagne, with in-depth information about each bottle and producer.

Working directly with our growers in France allows us to hand select the very best offerings just for our club members. We consider these selections to be CLASSIC, ready-to-drink, exquisitely produced bubbles.

Tête de cuvée translates to "head cuvée" and is considered to be the very best Champagne that the grower makes. Fancy and Extra Fancy members will receive these prestigious, elevated selections in addition to their three fatcork cellar selections.

Each of our allocations is curated around an educational theme, providing variety throughout the year and leading you on a tour de Champagne with every shipment.
Choose from our selection of club tiers based on the number of bottles you want to receive per quarter. You can switch up your club tier, skip an allocation, freeze or cancel your membership any time. Want more bubbles? Member benefits include the ability to add on recommended bottles or to double up on your regular shipment.
When a fatcork delivery arrives at your door, you get to experience the best Champagne in the world, with detailed tasting notes to help you get to know each bottle. You'll become an expert of Champagne in no time.
Exclusive member benefits
All members receive the following benefits:
Members only access to unique releases and new producers
Club pricing on select magnums: two for $249
Membership pricing on rotating cuvées
Buy any five bottles and the sixth is free
Free shipping on any bottles added to your club shipment
First access to events at member pricing
Local Members: End-of-month tastings (you and two guests taste for free!)
Exclusive recommendations for visiting Champagne, France
HOW FREQUENTLY DO I RECEIVE A SHIPMENT?
Our team curates and ships club allocations four times a year (March, May, September, and November). No two shipments are alike, so you will get to taste new Champagne each time around.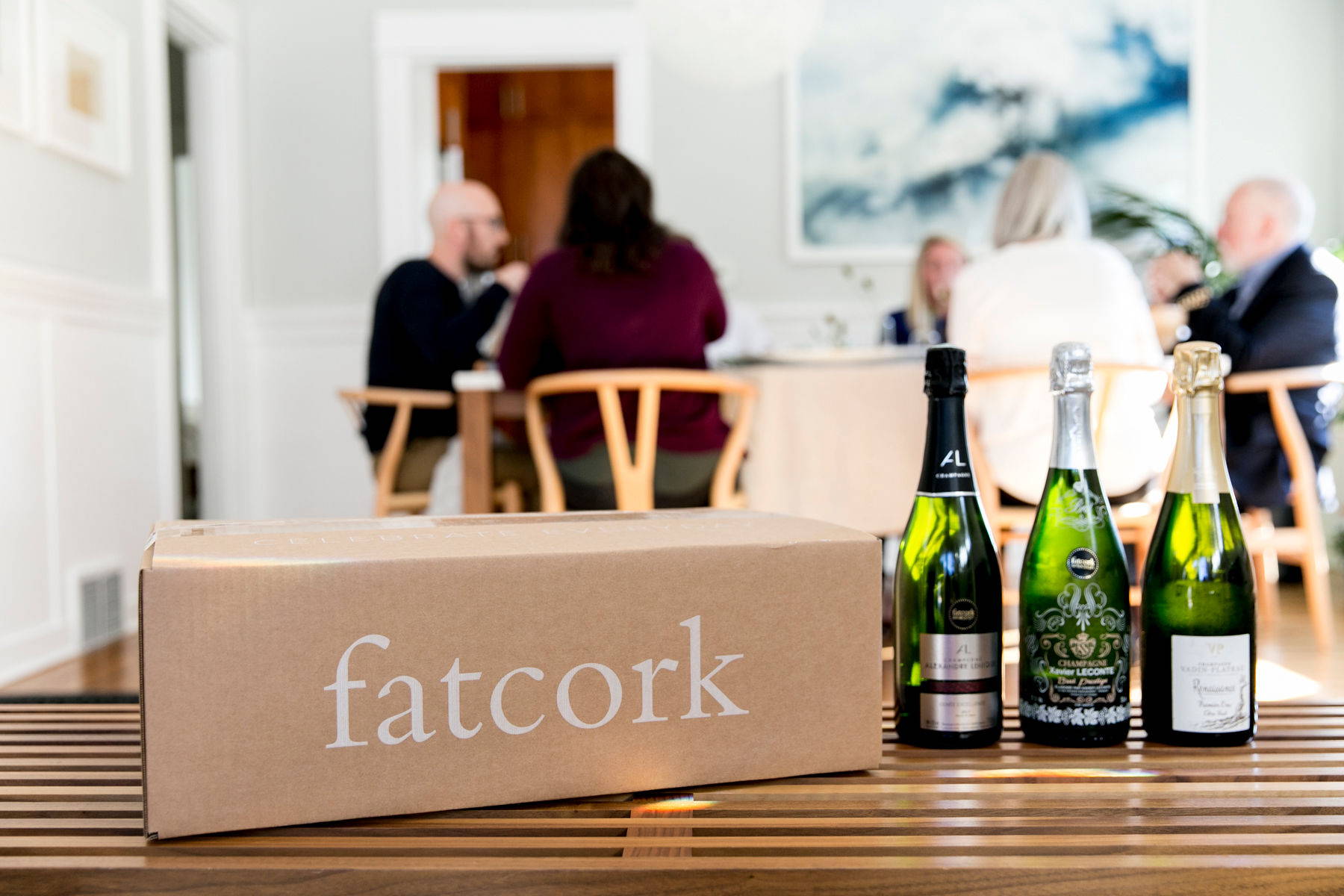 "We have enjoyed the services from fatcork from the beginning and it has been terrific. The information we receive with every bottle is exciting to learn about and enhances the Champagne experience. The staff is exceptional and very helpful. And they are prompt with every delivery. When choosing your Champagne supplier…why not just choose the best? Fatcork!"
Carrie & Scott Casebeer
fatcork members since 2011
"The best part of the product offered is the variety of styles produced by the various wine makers. We especially like the brut nature and the brut rosé.
The best part of the service is the helpful staff. Tastings, as much education as needed, and curbside service during the pandemic are helpful. The "big" tastings give us a chance to get together, catch up, and compare similar styles in side by side tasting.
On a personal aside, I appreciate the way you treat all of us."
Greg Hubbard
fatcork member since 2016
"Oh fatcork, we love you madly
You make us need Champagne, and need it badly.
We have taken to heart your good advice, to celebrate every day with a bottle on ice!
Your small grower focus is our cup of tea. Your tasting notes— sublime! I'm sure you agree.
So, thank you fatcork, your club tops the charts. Our cellar is full and so are our hearts."
Richard & Louise Dizon
fatcork members since 2019